About us
BRIEF HISTORY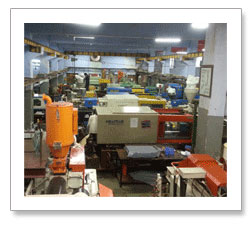 Aloke Rub Plast Pvt Ltd is established in 1994 and an ISO 9001-2008 organization is a major plastic products manufacturer OEM in India. Our products are daily used plastic items. We specialize in making plastic taps for over 25 years, apart from which we manufacture insulated products like kasseroles, tiffin boxes, water bottles. We also serve a wide range of products like air tight containers, thin wall articles, compass boxes, buckets, water jugs.


The preficient team members of our organization are well versed with the prevailing market trends and have been helping us in the growth of the company. With our quality standards we strive hard to raise the bars of client satisfaction by all means.
The company is headed by Atul R. Tanna and Ajay R. Tanna having Experience of 20 years in this line and additionally Shri Atul R. Tanna had an Experience of Working with Milton Plastics for period of 15 years.
The unit is equipped with full fledged Plant and Machinery. Along with assembly Line for 'Insulated Products'. In house tool room for maintenance of Moulds and Tools.
LOCATION
The company's unit is located at Plot.No.9, survey no.217/P, behind arsurampuria, Dadra, Dadra and and Nagar Haveli U.T. 'the area is a Notified backward area by virtue of which the unit is eligible for sales tax Exemption for 15 years'.

The location is 8.5 KM from vapi station and 5.5 KM from Silvasa off vapi Silvasa road. Vapi is about 160 KM from Mumbai. Most of the raw material Supplies is available from the Daman about 20 KM away.
PLANT AND MACHINERY
The company has installed all required Plant and Machinery such as Injection Molding Machines Hydraulic Rubber Molding, Press Rubber Mixing / Rolling Mill (List Attached).
With our quality standards (ISO 9001-2008 ) we strive hard to raise the bars of client satisfaction by all means.
We have following certifications...